So, this little thing called "Pier to Peak"…it's no joke and readers be warned, I am about to vent, complain and babble on and on about the toughest race I have ever run in my life. No jokes.
You may recall from an earlier post I decided to join my cousin on her first ever half-marathon in Santa Barbara. However, we didn't quite realize what we signed up for. But let's go back to the beginning…K-Caj (my cousin) and her mom, Kiki, and I all hopped in the car Saturday morning ready for a fun and quick three and a half hour drive and a girl's racing weekend.  A couple hours later, we stopped in San Louis Obispo so Kiki could visit some family, but she assured us, "Oh don't worry, Santa Barbara is only nine miles away." Now I will fully admit that I could have Googled it myself and figured out that it was completely wrong, but being new to California, never been to Santa Barbara or San Louis Obispo and trusting of my family, I took their word for it. But as we passed a giant sign that taunted us with SB being over 100 miles away, we instantly knew that we were in for an adventurous weekend. BLAST! So instead, we let Kiki do her thing and K-Caj and I headed to SLO for a little lunch, fro-yo, shopping and just hanging out. We even ventured upon the famous gum alley. Yes, it would have been nice if it smelled like fresh mint or bubble gum, but instead it reeked of urine and grossness. SMILE!
I really don't know why those people are analyzing the various gum types.
Later that afternoon we met back up with Kiki and made the extra hour and 45 minute trek to Santa Barbara. The coast line was beautiful and to top it all off, we were in a covertible. Ahhhhhh! But our dreams of a glamorous weekend were soon shot when we found out that K-Caj had trouble finding any available hotel rooms on Labor Day weekend and any that she did find required a minimum two night stay. Thus, we were left with Motel Hacienda. Ahh, the smell of sweet, sweet, well, grodiness.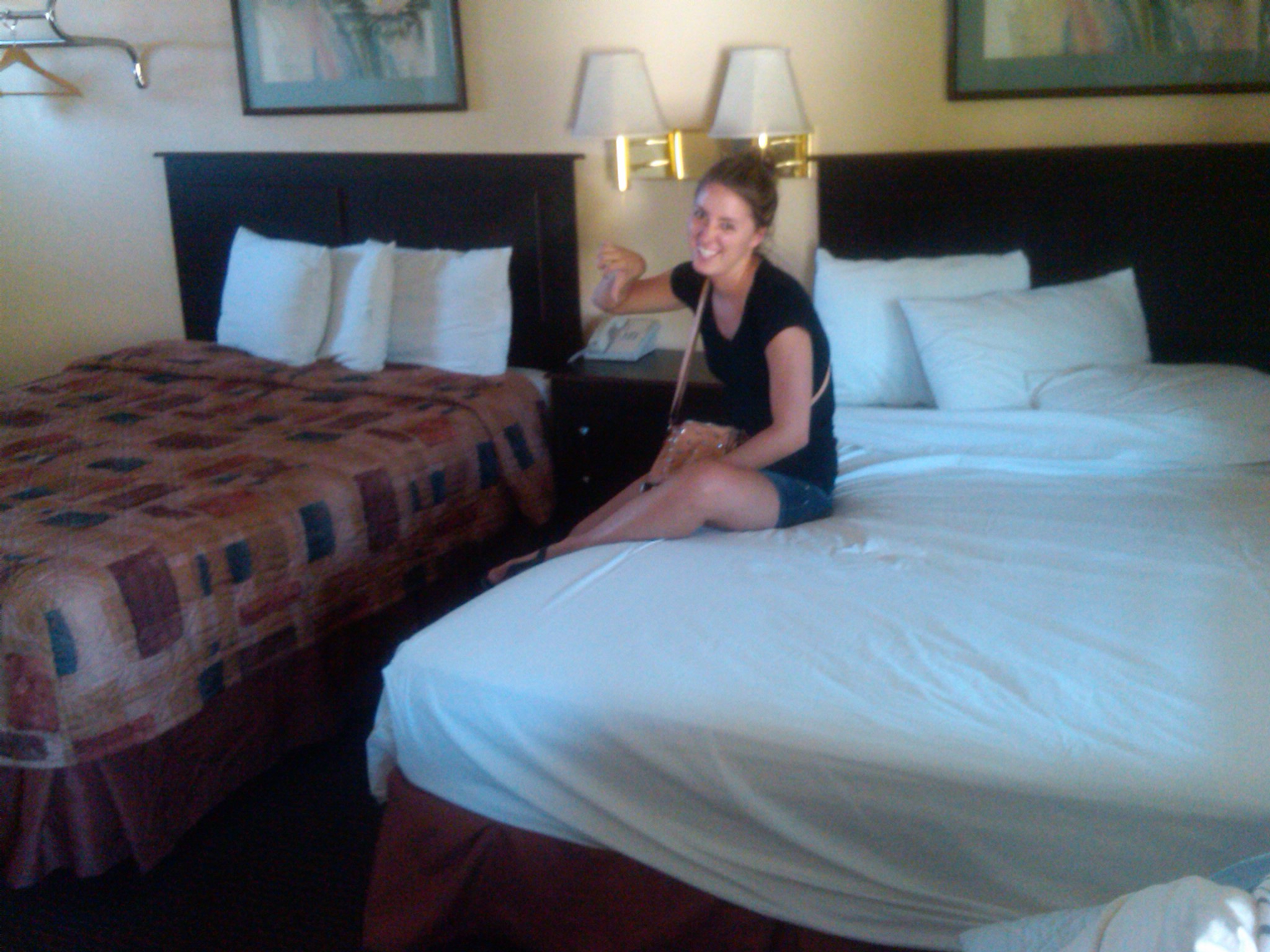 I'm a bit of a germ-a-phobe so we immediately stripped the beds of the comforters and pillows. But seriously people, did you ever see that 20/20 about hotel cleanliness? No? Well click here and be prepared to be grossed out. You'll never stay at a hotel/motel the same way! Oh, oh, oh, and you must see our glamorous view! Would you care to take a dip?
Yes, that is someone's house. Odd.
Anyways, we did end the night on a high note by meeting up with K-Caj's friend, wandering around downtown, carb loading and giggling. I had every intention of hitting the sack early, but the screaming, car alarms and odd noises of the motel meant a restless night's worth of sleep.
Before you knew it, it was race day! We were up at 5 and at the pier by 6:15. Don't be fooled, Santa Barbara is beautiful, but the mornings are frickin' freezing Mr. Bigelsworth!
At 6:30 the 500 or so participants began the ascent. The first three or so miles felt good. They were all uphill, but I was still keeping pace and feeling strong. But somewhere past that, we began the climb up La Cumbre Peak in the Los Padres National Forest. From mile 3 – 13, let me recap just a few of the thoughts that went through my mind (in no particular order). And yes, I curse like a sailor.
Oh damn, this is hard.
Oh shiz, this is getting really hard.
Holy F, I can't breathe.
What?! How can I be running that slow.
Why aren't there more porta-pottys?
Water…must…have…water.
No sports drinks? Only water. No bueno.
Hot damn, it's getting hot.
Maybe I should ask someone for a salt pack.
Oh my God, this is never going to end.
Thank God! Someone spritzing! Yes, me, me, me please!
What if I pass out and fall of this edge?
I'm running so slow right now I could tweet. (Tweeting ensued).
I'm running so slow right now up this damn hill, I could call my mom. (I called my mom, just in case I died.)
Wow. This view is BEAUTIFUL and totally worth it.
Wait, scratch that, not worth it.
I don't care about my time anymore. I just want to finish.
Ahh, someone with bananas. Gimme, gimme, gimme.
Not fair, that girl has her own road crew re-fueling her. I want my own road crew.
Everyone is walking, I have to walk. (Walking ensued).
Why are there so many BUGS flying around me?
One more mile, one more mile, one more mile…
Oh.
My.
Hardest.
Finishing.
Mile.
Ever.
Done.
Folks, I kid you not, this wasn't a run. It was steep, grueling and one of the most challenging runs I've ever done. Yes, hill work is tough. But 13.1 miles of it?! I cannot even explain. My time was nothing noteworthy, but I was still happy with being the 25th female and 8th in my age group out of 54. But most importantly, this race was extremely humbling.
I was seriously SO proud of K-Caj and Kiki! As a first half marathon for her, she totally rocked it and after this, ANYTHING is possible for her!
I must admit, being above the fog and looking out 4,000 feet above the city was one of the most GORGEOUS race views I've ever seen. I stopped to take some photos, but they didn't turn out so well with the cell phone camera.
I am fully aware that a lot of this post was me complaining and for those of you who made it all the way to the end of this post…you rock! But honestly, I had a GREAT weekend with some of my favorite people. Not only do I have some hilarious stories and great memories, but after accomplishing Pier to Peak, I honestly feel (enter: cheesy music) that I can do anything. If anyone wants to be used, abused and feel so, so humbled and accomplished afterwards, I would strongly suggest the Santa Barbara Pier to Peak half marathon.
Oh yes…just as a little memory: the 4,000 foot elevation climb: