Ladies and gentlemen…it is my pleasure to introduce to you my…
(and the crowd goes wild…ahhhhhh)!
Thanks to your help and an old iTunes gift card, I was able to compile a kick ass playlist that will help ignite that certain fire within as we climb through those infamous 26.2 miles. I figured the easiest way to compile them all was in an iTunes playlist, which you can now find here. But I will give you a little hint in that it includes the likes of B.o.B, Cage the Elephant, Britney Spears, Dropkcik Murphies, Florence + The Machine, Katy Perry, Muse, David Bowie, Usher, The Weather Girls, and more!
Some of my favorite additions to the list include:
My Time – Fabolous: My new favorite jam as the lyrics are perfect for the race. This is my time – go hard today!
I'm Shipping Up to Boston – Dropkick Murphys: How can you NOT get pumped when you hear this?
Under Pressure – David Bowie: I think this song is perfect for the race in that 26.2 miles does put a lot of pressure on you, but David Bowie knows just how to sooooothe the pain away.
ET – Katy Perry & Kanye West: Just because it's pop music gold.
S&M – Rihanna: You can't help but to feel like a bad ass.
There were a ton of great suggestions, but I only had so much in iTunes gift cards, so if you want to find more great songs, check out the comments of this post.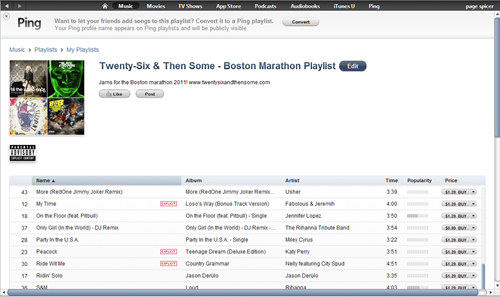 Happy Running!
P.S. I had a few more songs on the list, including a GirlTalk album and some others, but I just noticed that they didn't sync when I published the iTunes list. I'll try to fix this tonight so you have the complete list.