Because I'm just that excited about my new bike…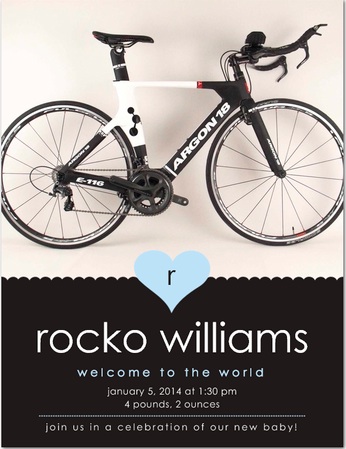 …or because I'm pathetic and can't prioritize things to do on a Tuesday night.
Either way, the bike love is back in a big way. We're fitting, tweaking and prepping for Rocko's big outdoor debut and I'm anxious to get back on two wheels.
Big thanks to Tiny Prints for letting me steal this ridiculous comp, to a good friend for helping hook me up and to the moving company who cracked the frame of my first bike, who made me want to punch someone in the face, but ultimately compensated me with enough to take home Rocko (R.I.P. Dora).
Rocko is a 2014 Argon18 E116 and I feel like a completed fraud with him — he's far too sexy for this pasty redhead. I guess this Fred will just have to fake it until she makes it, but I can't wait to try.
Happy Running & Cycling!