When strangers stop me on the street, the usually always ask, "Is it a boy?"
Not a single person has stopped and asked if it was a girl, probably because they are proponents of the old wives tale that a boy is more "pointy" and I would have to concur.
The belly is no longer a bump, but a pointy protrusion that shape shifts in confounding ways. One minute he's chilling cozily, the next minute my belly looks like Half Dome, with high peaks and steep surfaces, and at other times I'm convinced that he's trying to punch through and rip off his shirt, ala the Hulk. But the crazy thing is that in about a month, he will be making his entrance into the world.
People have asked me how I'm feeling about his arrival and while yes, it's on my mind almost every minute of every day, it's still settling in. Work has been b-u-s-y, and I've been focused on getting campaigns out the door and onboarding my maternity leave backfill. But June 15th will mark another first as I'll officially be on maternity leave. Is this really happening?!
As we move into the homestretch, the signs of a soon-to-be mom are everywhere. I find myself ooo-ing and awe-ing over the tiniest things, tearing up at University of Phoenix commercials, nesting like it's nobody's business, and to be honest, finally feeling "pregnant." You know, that stereotype, "it's hard to get out of bed, I can't tie my shoes well, and why is my belly so fuzzy?" pregnant. It's so much to take in, but also a period in my life that I never want to forget.
So here's a look back at life since the last bump update.
Baby Size: Roughly the size of Spongebottom Squarepant's house. Also known as a pineapple (but it might as well be a house because I'm starting to feel like one). The apps say ~18 inches and ~5 pound, and while his length is pretty much there, he'll continue to gain weight over the final weeks. We have our final ultrasound this week and I can't wait to get all of his real stats.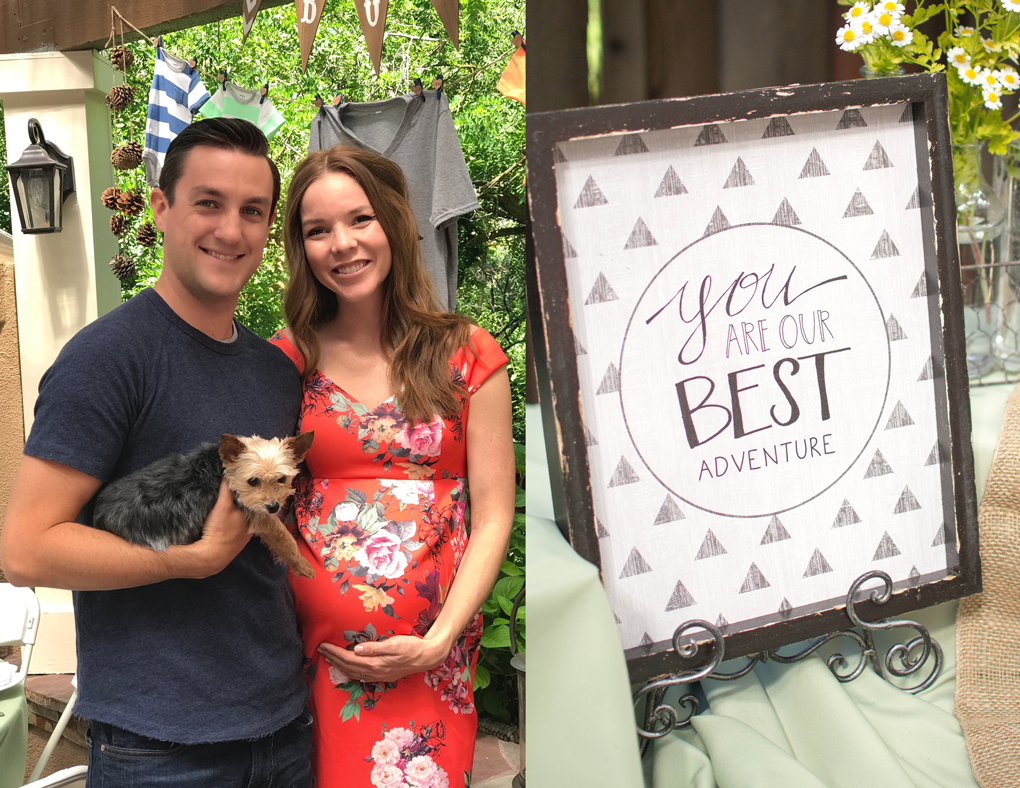 The Chickling's first work off-site
Celebrating three preggos with a work shower
Maternity photo magic
Highlights: This final stretch was the definition of a rollercoaster. There was a girls' trip to Pacific Grove, taking our maternity photos, attending bridal showers, celebrating my own baby shower, hiking, Mother's Day, work offsites, big work launches, attending childbirth/newborn/CPR/breastfeeding classes, starting to get the nursery set-up, and a few scary health moments in-between. Basically, it was non-stop. As I look back, I'm a bit in shock at how much we journeyed through. When you're in the moment, it's just one foot in front of the other, but as I pause to reflect, I can't help but to get a little sentimental thinking about the phase of life that was.
Feeling: More and more "pregnant." Throughout this journey, I've been lucky enough to feel and continue on about life almost like usual. Sure there was the sickness and tapering things down, but I count my blessings knowing things went smoothly. However, the past couple of weeks I can truly feel myself slowing down and just being worn-down. I admit, work has been pretty nuts and I know I pushed myself too hard. This is my own fault as I'm now paying the price with a nasty cold that's a deceptive way of saying, "SLOW. DOWN." It's more difficult to pick-up things off the floor, I can't see my toes, and I feel like a cirque du soleil performer just to try and get out of bed. As I look down the finisher's chute I am starting to see the finish line and as I do, my new goal is to just SLOW. DOWN. Or as I like to tell myself (chill the F out).
Loving: The movement. It's not just kicks and little jabs anymore, it's full on, barrel rolls, holy-hell-what-was-that-I-think-theres-any-alien-inside-of-me. I can just lay there, watching it for hours. Also, Josh. I'm so glad that I have a partner who is on board as I drag him to all of the classes I've signed us up for. Sure, the nursery isn't done and we still have a ton to do, but his willingness to sit through what most guys would loathe (including a breastfeeding class) makes my heart smile.
Hating: The exhaustion. It's back and I'm pretty sure I could just sleep all day…well, that's if my brain would turn off. Plus, having a cold and not being able to take any medicine. It's simply the worst.
Sweating: It's official. Running stopped at around week 34. Not because something hurt per se, but I just started to feel so large. I'll probably give it another go if this cold wraps up soon, maybe a mile or so, but I'm ok with focusing on feeling happy and getting some much needed rest. However, I have still been keeping up with 30-45 minutes of light strength training about six days a week, and some impressive bicep work as I scoop Talenti mango sorbet straight from the container and into my mouth.
Wearing: My Lululemon align yoga pants are a pure dream and plenty of dresses. These non-maternity dresses from Target are perfection for during, nursing, and post-baby. And pants? Yeahhh…only when necessary. 
Looking Forward To: JULY 13th! Let's all pray that the little chickling stays in there until the big day. I'm still in shock that it's time. I can't wait to meet him and start our greatest adventure.
Happy Running!
P.S. Read the first trimester recap here and second trimester recap here.